EN
In the company of my three dogs I work in a studio in an old creaky building in the middle of Zwolle's city center. As an illustrator I especially love drawing people and animals. Their behavior and idiosyncrasies fascinate me! I try to depict that in my illustrations in a somewhat surreal way. I like to exaggerate a bit, but keep the image strong and relatable.
I don't think anatomical correctness or perspective are that important. What I do think is important is the story that is told. With my illustrations I take the liberties I need to depict what cannot be told with words.
Do you have a story to tell? Please contact me. I like to think along with you. I am open to editorial assignments and I like to illustrate books for young and old
Marjolein Verbruggen
illustratie@marjoleinverbruggen.com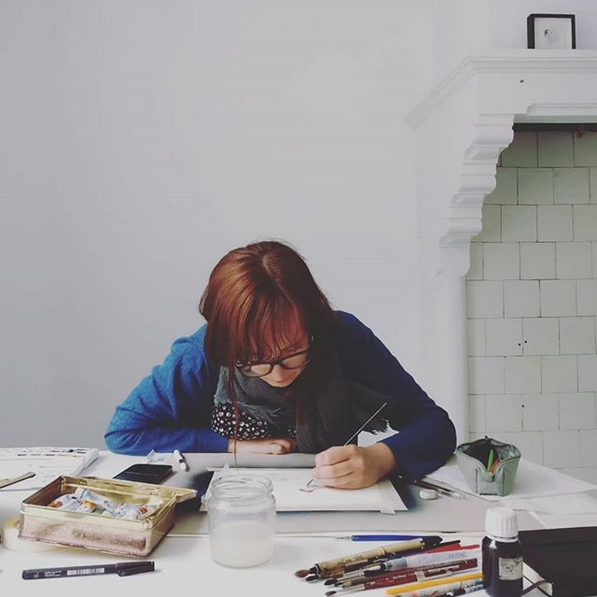 NL
In gezelschap van mijn honden werk ik in een atelier in een oud krakend pand midden in de Zwolse binnenstad.  Als illustrator houd ik vooral van het tekenen van mensen en dieren. Hun gedrag en eigenaardigheden fascineren mij. Dat probeer ik op soms wat surreële wijze weer te geven in mijn illustraties. Ik overdrijf graag een beetje, maar houd het beeld krachtig en herkenbaar.
Anatomische correctheid en perspectief vind ik niet zo
belangrijk. Wat ik wel belangrijk vind is het verhaal wat verteld wordt. Met
mijn illustraties verbeeld ik wat niet verteld kan worden met woorden.
Heb jij een verhaal te vertellen? Neem dan contact met me
op. Ik denk graag met je mee. Ik sta open voor redactionele opdrachten en ik
illustreer graag boeken voor jong en oud.
Marjolein Verbruggen